Winter's holiday celebrations are all about bringing people together. If you don't engage in proper cooking safety, though, the most wonderful time of the year might be ruined.
Reuniting with loved ones for the holidays typically means cooking is going to take place – a lot of cooking. Prepared meals get larger than ever, and those of us who don't cook regularly are often tasked with feeding the extended family and friends. This can lead to risks from fires and injuries, but you can minimize these risks with the following holiday cooking safety tips.
1. Test Smoke Detectors
Testing your smoke detectors may not seem like some novel holiday cooking safety tip, but you wouldn't know that from looking at statistics. Nearly 1 in 5 serious injuries in house fires occur where smoke detectors are present but not functioning. Of these, almost half simply had missing or disconnected batteries.
After leaving a pizza in the oven too long, disconnecting the battery until the smoke clears out might seem like a good idea. Unfortunately, many of us then forget to reconnect it. With family and friends coming in for the holiday, take a moment to ensure all these devices properly function.
Every smoke detector on the market has an exterior test button, and most have a small blinking light that indicates whether they're getting power. You should test the device once a month and replace the batteries 1-2 times a year.
2. Keep Children Away from the Cooking Area
Between 2013 and 2017, American emergency rooms saw over 317,000 burn injuries associated with stoves and other appliances. More than 20 percent of these occurred in children under the age of 5. No matter how careful you think you are, it takes only a fraction of a second for a child to touch a hot stove or other cooking apparatus.
Because of this, it's best to simply keep kids away from the cooking area altogether. If they want a drink from the kitchen, for instance, just have an adult do it. It's also smart to keep your pets out of the room as well. In addition to sustaining injuries, they could be the direct cause of an accident. Installing a pressure mount gate in the doorway is an effective way to prevent this.
3. Do a Thorough Cleaning
Most of us know what it's like to procrastinate on cleaning until we have company. This is perfectly understandable and acceptable, but it's important that you clean all cooking surfaces on a regular basis. Unlike the accumulated dust on your bookshelf, built-up grease residue can be a major fire threat.
It may be tempting to save a good deep cleaning until the end of the week, but this puts you at a higher risk of accidental fire. You should be spraying down the burners with vinegar or a cleaning agent after every use.
While a deep cleaning is a great holiday cooking safety tip, this is something you should be doing throughout the year. Ammonia is great for this, and you should always take care to clean all of the following areas:
Oven coils.
Drip pans.
Underside of stovetop (the front of your stove will lift like a car hood).
Stovetop surface.
A mixture of two parts baking soda, one part vinegar and just a few drops of dish soap can be used for especially dirty areas.
4. Turn Off Unused Burners Immediately
This is a quick and easy tip that could potentially save you from devastating accidents and expensive repair costs. Simply turn off the oven and all burners as soon as you're finished with them. In addition to potentially preventing an accident, you'll also cut down on your holiday utility bills!
If you find yourself frequently forgetting to do this, consider an automatic stovetop shutdown device. Some of these work with a timer while others feature motion detectors. While there are many feature-rich options available, some of the most basic devices cost under $15.
5. Deal with Appliance Issues NOW
A recent study found that over 150,000 residential fires – and $547 million in damage – occur every year in America thanks to major appliances. Cleaning your oven and wiping down the stovetop can help prevent many problems, but it's always important to ensure that household appliances are properly functioning.
This holiday cooking safety tip can occur any time during the year. Is the dryer making a strange sound in February, or did you notice a spark or buzz coming from the stove in September? If so, unplug the appliance now and have a professional take a look.
These issues can present current hazards that need immediate rectification. Even if it turns out to not be a fire danger, though, a malfunction during the holiday could ruin family dinner.
6. Purchase a Fire Extinguisher
Taking a proactive stance on holiday cooking safety is ideal, but it can't prevent every possible situation. This is why it's smart to have a fire extinguisher in the kitchen. Make sure you understand the ratings on these devices. This will dictate the type and size of fire they can extinguish.
Many burn injuries are caused by individuals attempting to put out fires on their own. Because of this, you should never attempt to extinguish a fire that's larger than the device's rating. Sometimes walking away without an injury is a win.
7. Turkey Frying Safety
Fried turkeys are one of the most popular trends today, and this creates the need for completely new holiday safety tips. Reported residential fires double the average on Thanksgiving Day, and firefighters say that portable deep fryers are now the main culprit for home cooking fires.
Turkey fryers present a multitude of dangers, and this is why it's ideal to stick with other cooking methods. Grease spillover, tipping hazards, overheated oil and extremely hot surfaces are all potential threats. If you must fry your turkey, make sure to use the following tips:
Keep it away from your home. This includes your garage. 
Never fry when it's raining outside.
Keep everyone – including pets and drunk uncles – at a safe distance.
Ensure the turkey is fully thawed.
Make sure the deep fryer is on a completely level surface.
Never mix alcohol with turkey frying.
Keep a proper fire extinguisher handy.
Be careful not to overfill the fryer.
Don't leave the fryer unattended.
Always cook in an open, clear and safe space.
This may seem like a lot of holiday cooking safety tips for a single dinner item, but that's because this cooking method is dangerous. Some safety consulting companies, for instance, refuse to certify any turkey fryers due to the potential hazards.
8. Don't Wear Loose Clothing
Wearing appropriate clothing is another simple yet overlooked holiday cooking safety tip. Loose clothing can drag on stove eyes or get caught on handles. Dangling jewelry and bracelets can do the same. Avoiding these possible issues and tying back your hair can go a long way in preventing fires and serious injuries.
Sleeves are the area of clothing most likely to cause this issue. Make sure they're either close fitting, short or tightly rolled up. Change into your holiday finest after dinner is cooked if necessary.
9. Don't Leave Food Unattended
Most foods should never be unattended while cooking, but don't worry about taking up shop in the kitchen while the turkey cooks. This tip mostly comes into play when you're frying, broiling or grilling. As long as you set the appropriate temperature on your oven, it shouldn't be necessary to set up vigil while the big-ticket items are baking.
10. Maintain an Uncluttered Surface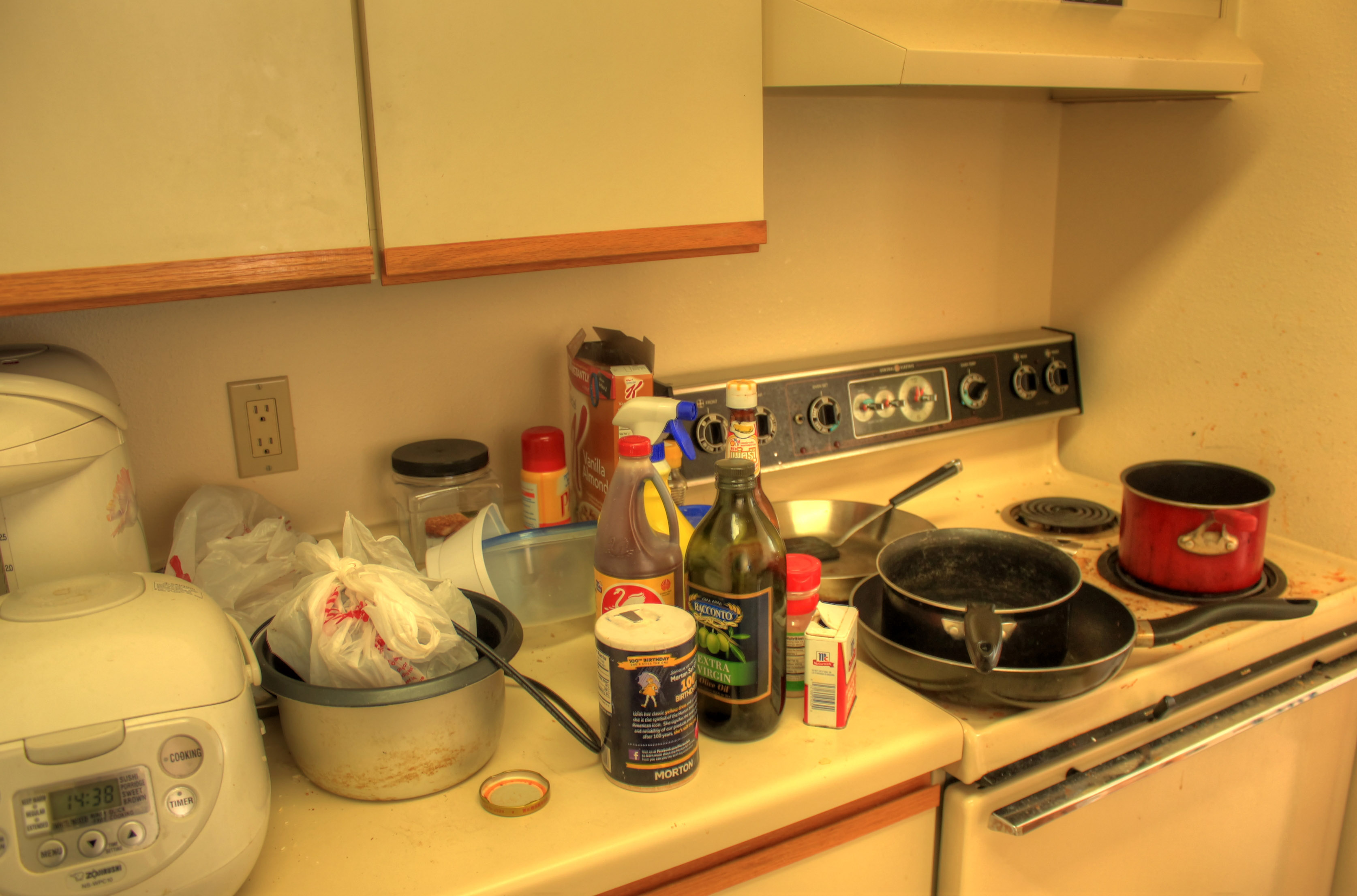 Cooking for all your family and friends can get hectic, so it's understandable that the kitchen could look chaotic while things are getting done. Even with this being the case, you should be careful to keep flammable items away from hot surfaces.
This includes wooden utensils, plastic bags, food packaging and even oven mitts. In college, this tip would fall under Holiday Cooking Safety 101. It's a basic preventative measure that's often forgotten when things become rushed. Don't let a little stress make you overlook this easy and essential step. Here are a few tips to keep things from getting cluttered while you're preparing a holiday meal:
Place a large bowl on the counter. Toss all food waste here.
Utilize a splatter screen when frying, sautéing or rendering fat.
Use a single cup to hold reusable measuring spoons.
Keep recycling bin or trash can by the counter.
Spray or measure over an open dishwasher or sink.
The Best Gift is Holiday Cooking Safety
The holiday season gives friends and family a chance to come together – even if only once a year – to remember the bonds that hold them together. A little preparation can go a long way in making sure this remains a joyous time of year instead of a winter disaster.
A home inspection can cover many of the holiday cooking safety issues mentioned here. These assessments can check that your appliances, smoke detectors, home structure and more are safe from fire hazards. Find a WIN Home Inspection location near you by clicking here or contact us today at (800) 309-6753.